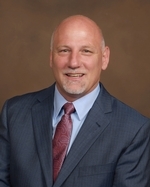 My passion is working for my customers and my clients, whether it's helping you find your next home or the right soup at Zoup! I will bring my energy and my 35+ years of business experience in and around Lincoln to work for you. I absolutely love being a new Realtor in Lincoln and helping others find or build the right home!
My wife Vickie and I are thrilled to call Lincoln home and the place we choose to raise our family. Our three kids, Shelby, Jackson and Addie and a welsh terrier named Cooper love to support the Huskers, enjoy sports and outdoor activities.
For years I coached Franchise Owners on how to improve their business through developing people and processes to increase ROI. Most recently, as the owners of Zoup! Vickie and I have were thrilled to bring and new concept in fast casual dinning to the Lincoln community. I enjoy seeing our customers every day!
I look forward to putting my passion and experience to work for you. I will listen to your dreams, answer your questions, find the right resources, and when your ready, I will work tirelessly for you!
If you are in the market for a new home, I would love to help, or if you just want "Hot Soup" please give me call! 402-326-5860 or Todd.Knorr@lincolnfirstrealty.com.
#22121350 | Single Family Home
#22125254 | Single Family Home