Donna Avers, GRI,Realtor®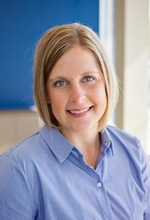 As a lifelong resident of Nebraska, I have loved living in Lincoln for the past 25 years with my husband Chad and two daughters, Taylor and Mia, and Black Labrador, Auggie. 
As the owner of my own professional organizing business for seven years, I have had the satisfaction of helping clients organize, purge, downsize, and take back their spaces.  The skills I have gained by working with people through this process with many different, and sometimes difficult situations, gives me the ability to listen and understand my client's needs.  
I look forward to implementing these skills of getting to know my clients, understanding their wants and needs in a new home, communicating, and making smart recommendations.  I make it my highest priorities to give each client my personal attention and provide the best possible service available.
If you are considering buying or selling a home, or know someone who is in the market to do so, please connect with me to start the journey in purchasing your new home.
Testimonials
"I have known Donna Avers for a few years now. She is someone you can trust. She is very thorough and will assist you to get your home ready to be the shining star in the neighborhood to get you top dollar. She will see things that you may not even realize that can aid in your sale. Donna helped me to get two houses ready for sale and I couldn't have gotten there without her. If you are looking to buy a new home or a different home, Donna can be there to assist you on both sides. Observant, reliable, pleasant to work with are just a few things I can say about Donna. You won't go wrong when you chose her as your real estate agent." -Nancy R.
"I have enjoyed working with Donna Avers and find her to be a friendly, supportive, and engaging person. She is very thorough and committed to the tasks at hand. Her resourcefulness, creativity, and determination in finding a solution to a problem makes her a welcome partner when it comes to tackling any situation. She is untiring and I'd want her on my team anytime." -Gloria O.
"We have worked with Donna for over a year and appreciate her unique skill set. Her professional approach combined with her attention to detail and creativity make her an excellent addition to the development of any space. She is determined and efficient with her time. We would recommend Donna to anyone!" -Dave & Elizabeth
"Donna has been a delight to work with. Her stupendous professionalism and dedication has made us her loyal customers. She has so much passion for her work and compassion for the people around her. Her hard work gets the results she promised her clients. Donna listens very closely to her clients and their needs to deliver exactly what they are looking for. We love working with her and interactions with her. Very happy with the results she delivered to us. " -Suni & Srini
Affordability Calculator
Monthly Gross Income
$
Monthly Debt Expenses [?]
$
Down Payment:
$
Interest Rate:
%
Please follow & like us :)